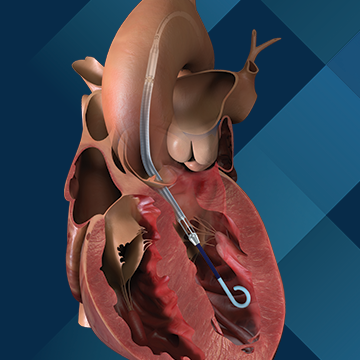 Impella CP®
with SmartAssist®
Minimally invasive heart pump with intelligent technology to improve patient outcomes with peak flows up to 4.3 L/min
Overview
The Impella CP with SmartAssist heart pump is designated as safe and effective by the FDA for use during high-risk PCI procedures and for patients in cardiogenic shock. It is a minimally invasive, temporary heart pump that uses real-time intelligence associated with improved survival and heart recovery.
Mary Hanel was too high-risk for surgery. Protected PCI with Impella helped her heart recover.
Additional Resources

Brochure
A guide for you, your family and caregivers to learn more about heart disease, heart failure and treatment options to discuss with your doctor.
Download PDF

Patient Information
Learn what the Impella heart pump is, how it is inserted and what you can expect after the Impella heart pump is removed.
Download PDF
Are you a health care professional?
Indications for Use
High-Risk PCI
The Impella 2.5®, Impella CP® and Impella CP® with SmartAssist® Systems are temporary (≤ 6 hours) ventricular support devices indicated for use during high-risk percutaneous coronary interventions (PCI) performed in elective or urgent, hemodynamically stable patients with severe coronary artery disease, when a heart team, including a cardiac surgeon, has determined high-risk PCI is the appropriate therapeutic option. Use of the Impella 2.5, Impella CP, and Impella CP with SmartAssist Systems in these patients may prevent hemodynamic instability, which can result from repeat episodes of reversible myocardial ischemia that occur during planned temporary coronary occlusions and may reduce peri- and post-procedural adverse events.
Cardiogenic Shock
The Impella 2.5®, Impella CP®, Impella CP® with SmartAssist®, Impella 5.0®, Impella 5.5® with SmartAssist® and Impella LD® Catheters, in conjunction with the Automated Impella Controller™ (collectively, "Impella® System Therapy"), are temporary ventricular support devices intended for short term use (≤ 4 days for the Impella 2.5, Impella CP, and the Impella CP with SmartAssist, and ≤ 14 days for the Impella 5.0, Impella 5.5 with SmartAssist and Impella LD) and indicated for the treatment of ongoing cardiogenic shock that occurs immediately (< 48 hours) following acute myocardial infarction or open heart surgery or in the setting of cardiomyopathy, including peripartum cardiomyopathy, or myocarditis as a result of isolated left ventricular failure that is not responsive to optimal medical management and conventional treatment measures (including volume loading and use of pressors and inotropes, with or without IABP). The intent of Impella System Therapy is to reduce ventricular work and to provide the circulatory support necessary to allow heart recovery and early assessment of residual myocardial function.
Contraindications and Warnings
The Impella 2.5, Impella CP, Impella CP with SmartAssist, Impella 5.0, Impella 5.5 with SmartAssist and Impella LD are contraindicated for use with patients experiencing any of the following conditions: Mural thrombus in the left ventricle; Presence of a mechanical aortic valve or heart constrictive device; Aortic valve stenosis/calcification (equivalent to an orifice area of 0.6cm2 or less); Moderate to severe aortic insufficiency (echocardiographic assessment graded as ≥ +2); Severe peripheral arterial disease precluding placement of the Impella System; Significant right heart failure*; Combined cardiorespiratory failure*; Presence of an Atrial or Ventricular Septal Defect (including post-infarct VSD)*; Left ventricular rupture*; Cardiac tamponade*

* This condition is a contraindication for the cardiogenic shock indication only.
Potential Adverse Events
Acute renal dysfunction, Aortic valve injury, Bleeding, Cardiogenic shock, Cerebral vascular accident/Stroke, Death, Hemolysis, Limb ischemia, Myocardial infarction, Renal failure, Thrombocytopenia and Vascular injury

In addition to the risks above, there are other WARNINGS and PRECAUTIONS associated with Impella devices.

Visit www.abiomed.com/impella and to learn more.