Press release
Pivotal Impella ECP Study Expands Enrollment to Three New Jersey Hospitals
April 24, 2023 5 min read
DANVERS, Mass., April 24, 2023 – Abiomed, part of Johnson & Johnson MedTech1, announces the first participants have been enrolled in the Impella ECP Pivotal Trial at three hospitals in New Jersey, expanding this study to a second state in the U.S. Patients received Impella ECP support during high-risk percutaneous coronary intervention (PCI) procedures and were enrolled in the trial at Hackensack Meridian Hackensack University Medical Center, Morristown Medical Center and The Valley Hospital. 
Male and female patients between 47 and 80 years of age were enrolled in the Impella ECP Pivotal Trial at these hospitals. Up to 256 patients will be enrolled in the Impella ECP Pivotal Trial, which is a single-arm, prospective, multi-center trial that evaluates the rate of major adverse cardiovascular and cerebrovascular events (MACCE) in adult patients who receive Impella ECP support during an elective or urgent high-risk PCI procedures.
"Abiomed is thrilled to collaborate with these three sites on this landmark pivotal trial designed to demonstrate the safety and efficacy of the Impella ECP during high-risk PCI procedures," said Seth Bilazarian, MD, senior vice president and medical director at Abiomed, Inc. "Impella ECP lowers the barrier to use for patients given its smaller size for insertion and removal, which will allow more physicians to provide hemodynamic support for their high-risk patients in the cath lab." 
Impella ECP is 9 Fr in diameter upon insertion and removal from the body. Once in the body, it expands and supports the heart's pumping function, providing peak flows up to 5 L/min. 
The Food and Drug Administration (FDA) approved the Impella ECP early feasibility study (EFS) in June 2020. Impella ECP received an FDA breakthrough device designation in August 2021, demonstrating that Impella ECP meets the FDA's stringent requirements for a breakthrough device. Impella ECP is the first mechanical circulatory support device to use the EFS pathway as a steppingstone to a U.S. pivotal study. Additional details about the Impella ECP pivotal study are available here.
Impella ECP is an investigational device limited by federal law to investigational use only.
Impella ECP pump in heart illustration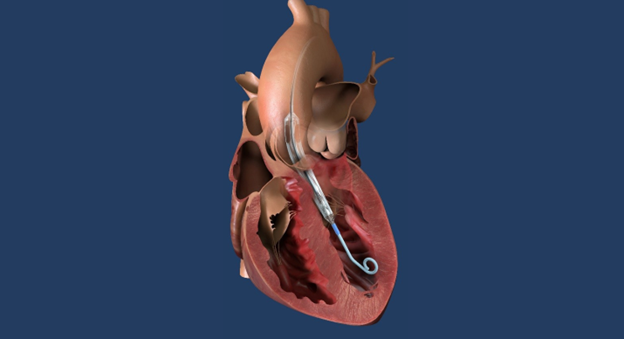 About Abiomed
Based in Danvers, Massachusetts, USA, Abiomed, part of Johnson & Johnson MedTech, is a leading provider of medical technology that provides circulatory support and oxygenation. Our products are designed to enable the heart to rest and recover by improving blood flow and/or provide sufficient oxygenation to those in respiratory failure. For additional information, please visit www.abiomed.com.
About Johnson & Johnson MedTech
At Johnson & Johnson MedTech, we unleash diverse healthcare expertise, purposeful technology, and a passion for people to transform the future of medical intervention and empower everyone to live their best life possible. For more than a century, we have driven breakthrough scientific innovation to address unmet needs and reimagine health. In surgery, orthopaedics, vision, and interventional solutions, we continue to help save lives and create a future where healthcare solutions are smarter, less invasive, and more personalized.
Cautions Concerning Forward-Looking Statements
This press release contains "forward-looking statements" as defined in the Private Securities Litigation Reform Act of 1995 regarding Impella ECP. The reader is cautioned not to rely on these forward-looking statements. These statements are based on current expectations of future events. If underlying assumptions prove inaccurate or known or unknown risks or uncertainties materialize, actual results could vary materially from the expectations and projections of Abiomed, Inc., any of the other Johnson & Johnson MedTech Companies and/or Johnson & Johnson.  Risks and uncertainties include, but are not limited to: uncertainty of commercial success; challenges to patents; competition, including technological advances, new products and patents attained by competitors; manufacturing difficulties and delays; product efficacy or safety concerns resulting in product recalls or regulatory action; changes to applicable laws and regulations, including global health care reforms; changes in behavior and spending patterns of purchasers of health care products and services; and trends toward health care cost containment. A further list and descriptions of these risks, uncertainties and other factors can be found in Johnson & Johnson's Annual Report on Form 10-K for the fiscal year ended January 1, 2023, including in the sections captioned "Cautionary Note Regarding Forward-Looking Statements" and "Item 1A. Risk Factors," and in Johnson & Johnson's subsequent Quarterly Reports on Form 10-Q and other filings with the Securities and Exchange Commission. Copies of these filings are available online at www.sec.gov, www.jnj.com or on request from Johnson & Johnson. Neither Abiomed, Inc., the Johnson & Johnson MedTech Companies nor Johnson & Johnson undertakes to update any forward-looking statement as a result of new information or future events or developments.
For further information please contact:
Jenny Leary
Associate Director, US Communications
[email protected]
978-882-8491
References
Johnson & Johnson MedTech comprises the surgery, orthopedics, vision and interventional solutions businesses within Johnson & Johnson's MedTech segment.