Press release
Abiomed to Highlight Data Analysis Identifying Complex Clinical Profile of Patients Receiving Impella®-Supported HRPCI at TCT Symposium
October 23, 2023 8 min read
DANVERS, Mass., Oct. 23, 2023 – Abiomed, part of Johnson & Johnson MedTech1, announced that novel data from seven research studies focused on optimizing outcomes for patients receiving Impella-supported high-risk percutaneous coronary intervention (HRPCI) will be presented at the 35th Transcatheter Cardiovascular Therapeutics (TCT) annual scientific symposium taking place in San Francisco between Oct. 24 - 26.
 
As part of an academic collaboration coordinated by the Cardiovascular Research Foundation (CRF)2, researchers conducted new analyses of data from the prospective, multicenter PROTECT III study, which includes the most robust contemporary data set of 1,237 Impella-supported HRPCI patients treated at 46 sites in the U.S. between March 2017- March 2020.

IMPELLA DATA PRESENTATIONS
The seven studies include an analysis of the characteristics of PROTECT III patients that demonstrates how physicians are distinguishing which patients are high-risk and appropriate for Impella-supported HRPCI procedures. The data shows that 82.5 percent of patients have features in all three high-risk domains: comorbidities, complex coronary anatomy and adverse hemodynamics. It also demonstrates that 99.6 percent of patients have risk factors from two or more of the high-risk domains. (see figure 1)
Arsalan Abu-Much, MD, a cardiologist and postdoctoral fellow at CRF, will present this abstract (#TCT 216) on Thursday, Oct. 26 at 11:18 a.m. PDT at Station 6 – Emerging Clinical Science & Research, Hall C, Exhibition Level, Moscone South.
 
Additional Impella HRPCI abstracts being presented on Oct. 26 include (in order of presentation timing):
TCT 143: Prognostic Implications of Anemia in Impella-Supported HRPCI: Insights From the cVAD PROTECT III Study
TCT 145: Relationship Between Preprocedural Blood Pressure and Outcomes in Patients Undergoing Impella-Supported High-Risk PCI – Insights From the cVAD PROTECT III Study
TCT 214: Right Ventricular Function in Patients Undergoing Impella-Assisted High-Risk Percutaneous Coronary Intervention: Insights From the cVAD PROTECT III Study
TCT 241: Clinical Characteristics and Outcomes of Impella-Supported High-Risk PCI in Patients Turned Down for Coronary Artery Bypass Graft Surgery: Insights from the cVAD PROTECT III Study
TCT 219: Performance of Existing Risk Models in Impella-Supported High-Risk Percutaneous Coronary Intervention
TCT 240: A-SMART-EF: A Novel Score to Predict Mortality in Patients Undergoing Impella-Assisted Percutaneous Coronary Intervention
DAILY RECAP WEBCAST
Abiomed will broadcast a daily summary of key TCT news from 5-5:30 p.m. PDT on Tuesday, Oct. 26, Wednesday Oct. 27 and Thursday, Oct. 28. Chuck Simonton, MD, Abiomed's chief medical officer and Seth Bilazarian, MD, Abiomed's vice president for professional education and medical communication, will host the daily recap shows. Visit https://www.heartrecovery.com/tct-2023 to tune in.
Abiomed at TCT 2023
Abiomed's World Connect TCT Symposium takes place on Tuesday, Oct. 24 between 11 a.m.–12 p.m. PDT on Level 2 in the Presentation Theater. The symposium, Safeguarding the Heart: Defining HRPCI, will be moderated by Bill O'Neill, MD, and include presentations from Aditya Bharadwaj, MD, Alexandra Lansky, MD, and Norman Mangner, MD. The symposium will be livestreamed.

Abiomed's Training Pavilion will take place on Tuesday, Oct. 24 between 2-3:30 p.m. and 4-5:30 p.m. PDT in Training Pavilion 1, Hall D, Exhibition Level, Moscone South. Attendees will hear from physician leaders on best practice techniques to optimize safety and efficacy using Impella for ventricular unloading. There will be stations for health care providers and/or attendees to get hands-on experience practicing access and closure, including image-guided access for both femoral and axillary approaches, and optimizing patients for ICU transfer. This training requires registration to attend. Click here for information.

Abiomed's booth (#915) will provide TCT attendees the opportunity to learn more about Abiomed's Impella heart pump platform, including Impella RP, Impella RP Flex, Impella CP and Impella 5.5. Conference attendees are encouraged to stop by to learn more about Abiomed's pipeline technology, including Impella ECP, engage in virtual reality training technology and get hands-on Impella experience with Advanced Impella trainers. Visit the booth Tuesday – Thursday, 8 a.m. – 6 p.m. PDT, located at Moscone South, Exhibition Level, Halls A-D.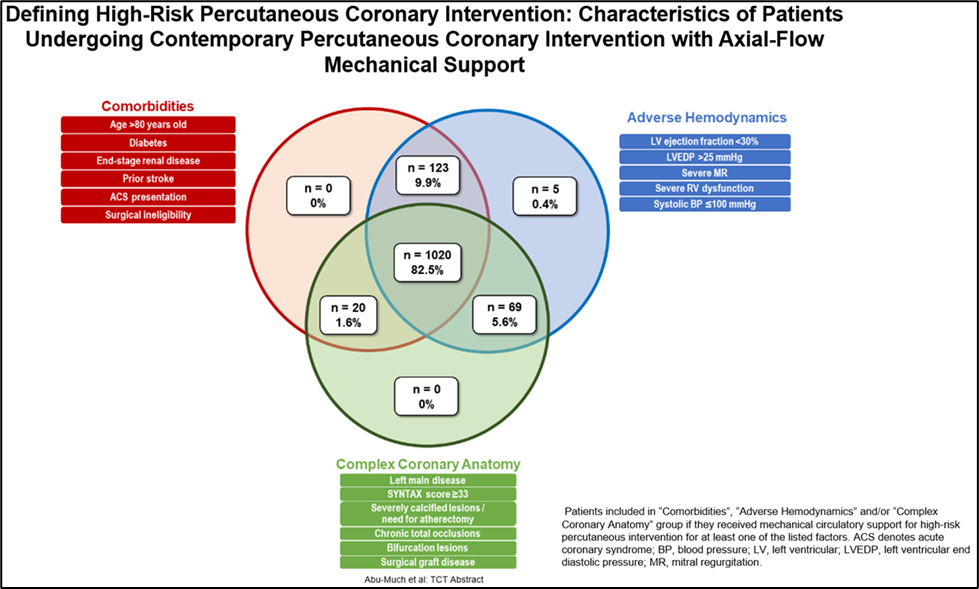 Figure 1: A PROTECT III study analysis demonstrates that 82.5% of Impella-supported HRPCI patients have features in all three high-risk factor domains – comorbidities, complex coronary anatomy and adverse hemodynamics.
About Abiomed
Based in Danvers, Massachusetts, USA, Abiomed, part of Johnson & Johnson MedTech, is a leading provider of medical technology that provides circulatory support and oxygenation. Our products are designed to enable the heart to rest and recover by improving blood flow and/or provide sufficient oxygenation to those in respiratory failure. For additional information, please visit www.abiomed.com.
About Johnson & Johnson MedTech
At Johnson & Johnson MedTech, we unleash diverse healthcare expertise, purposeful technology, and a passion for people to transform the future of medical intervention and empower everyone to live their best life possible. For more than a century, we have driven breakthrough scientific innovation to address unmet needs and reimagine health. In surgery, orthopaedics, vision, and interventional solutions, we continue to help save lives and create a future where healthcare solutions are smarter, less invasive, and more personalized.
Cautions Concerning Forward-Looking Statements
This press release contains "forward-looking statements" as defined in the Private Securities Litigation Reform Act of 1995 regarding Abiomed technology. The reader is cautioned not to rely on these forward-looking statements. These statements are based on current expectations of future events. If underlying assumptions prove inaccurate or known or unknown risks or uncertainties materialize, actual results could vary materially from the expectations and projections of Abiomed, Inc. and/or Johnson & Johnson.  Risks and uncertainties include, but are not limited to: uncertainty of commercial success; challenges to patents; competition, including technological advances, new products and patents attained by competitors; manufacturing difficulties and delays; product efficacy or safety concerns resulting in product recalls or regulatory action; changes to applicable laws and regulations, including global health care reforms; changes in behavior and spending patterns of purchasers of health care products and services; and trends toward health care cost containment. A further list and descriptions of these risks, uncertainties and other factors can be found in Johnson & Johnson's Annual Report on Form 10-K for the fiscal year ended January 1, 2023, including in the sections captioned "Cautionary Note Regarding Forward-Looking Statements" and "Item 1A. Risk Factors," and in Johnson & Johnson's subsequent Quarterly Reports on Form 10-Q and other filings with the Securities and Exchange Commission. Copies of these filings are available online at www.sec.gov, www.jnj.com or on request from Johnson & Johnson. None of Abiomed, Inc. nor Johnson & Johnson undertakes to update any forward-looking statement as a result of new information or future events or developments.
For further information please contact:
Jenny Leary
Associate Director, US Communications
[email protected]
978-882-8491
 
References
Abiomed, Inc. is part of Johnson & Johnson MedTech, which comprises the surgery, orthopedics, vision and interventional solutions businesses within Johnson & Johnson's MedTech segment.
Abiomed and CRF have an academic collaboration supported by Abiomed and managed operationally by CRF.