Patient Story
Brock Thom's Journey to Heart Recovery: Patient is Married and Holds Gender Revel Party While on Impella® Support
My name is Brock Thom. I'm 38 years old and I work in construction management in Ottawa, Ontario. Although I've always been an active person, I've lived with an irregular heartbeat and occasional dizzy spells for most of my life. When I began experiencing chest discomfort, a rapid pulse, and shortness of breath, I was admitted to the University of Ottawa Heart Institute in Ottawa, Ontario.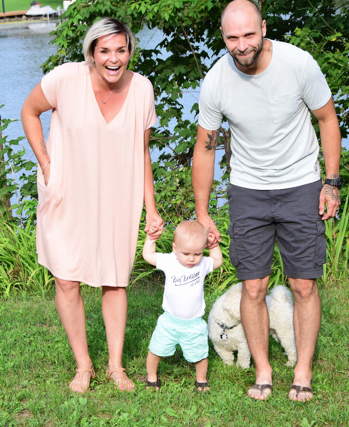 Once in the hospital, I was diagnosed with tachycardia induced cardiomyopathy and was in cardiogenic shock. My cardiothoracic surgeon, Hadi Toeg, MD, inserted the Impella 5.0® to allow my heart to rest while an ablation was performed to correct my abnormal heart rhythm. While I was in the hospital, I married my now wife, Melissa, and we revealed the gender of our first child. After nine days, my heart recovered and the Impella heart pump was removed. I walked out of the hospital a married man and four weeks later, my son was born. 
Today, I am working full-time, playing soccer, and spending time with my growing family. I am so thankful for the physicians, nurses, and the staff at the University of Ottawa Heart Institute. The care I received, along with support of the Impella heart pump, is the reason I'm here today.